Calabria
One of the oldest regions in Italy, Calabria has a peninsular shape spanning approximately 250 km in length, yet no more than 50 km in width.  It was first inhabited in Paleolithic Times by many people and various cultures from around the Mediterranean coast.   The Greeks were some of the first to inhabit the area establishing powerful colonies but the area also saw the Byzantines, Normans, Swabians, Angevins, Aragonese, Spaniards, Austrians and Bourbons.
Known as "The Coast of the Gods", this southern region of Italy situated along the Tyrrhenian Sea is a haven for natural beauty.  The picturesque turquoise blue waters, the pristine white sand beaches, the spectacular mountain range and the abundance of activities to do make this area a destination that must not be missed.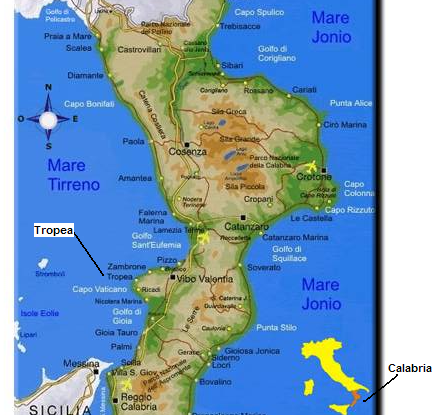 Tropea
Due to its characteristic position, Tropea played an important role during the Roman times under the Saracen, the Normans and the Aragonese.  Because of its position, its art, architectural work and natural beauty it has been called the "Pearl" of the Tyrrhenian Sea. 
With its breathtaking beaches, crystal clear waters and rustic town perched on an amazing cliff 50 meters above the sea, it is not surprising that Tropea is quickly becoming a desired holiday destination spot!  There is much to discover in this area attracting people almost year round with a climate ranging from 35 degrees in the summer to 18 degrees in the winter.
For those that want to lay on a stunning beach with a book to those who want to hike through the spectacular mountains to those who prefer exploring small, authentic Italian villages, here you can have it all in one location.